Description
Product Description
MHJ-B series handheld fiber laser welding machine is a new generation of laser welding products, its laser is selected by the Keplin laser quality light source, the whole machine with integrated design, beautiful shape and stable performance, easy to install and simple operation, high security. It has the characteristics of fast welding speed, high efficiency, good welding effect, less welding consumables, long life and environmental protection, and can be widely used in kitchen appliances, doors and windows, stairs and elevators, stainless steel furniture, hardware sheet metal, advertising signs, craft gifts, auto repair, automobile manufacturing, rail transportation and aerospace industries.
MHJ-B series handheld laser welding machine marked with wire distribution machine reduces the requirement of clearance for parts, which further improves the welding quality. It can also be used with collaborative robots to fix the welding gun on top of the collaborative robot to reduce the labor intensity of the operator and improve the welding quality of the weld.
Product Parameter
Model series

MHJ-B series(BWT Laser Source)

Model

MHJ-1000B

MHJ-1500B

MHJ-2000B

Laser Model

1000W

1500W

2000W

Output power

1000W

1500W

2000W

Laser wavelength

1080+10 nm

Working mode

Continuous / Modulated

Power adjustment range

10 ~ 100%

Fiber core diameter

25 or 50

Targeting and positioning

Red Light

Fiber length

12 m

Welding speed

0 ~ 120 mm/s

Applicable thickness

< 3.5mm(depending on the material)

Wire feeder

Standard Wire Feeding Speed38~600mm/min

Wire feeding diameter

0.8/1.0/1.2/1.6/2.0mm

Cooling method

Water-cooled

Working Environment

10~40°C

Power Rating

3.5KW

4.5KW

6KW

Operating Voltage

220±20V,AC,PE,50/60Hz

External dimensions

1150X630X1080 mm

Weight of the whole machine

About 250kg
Sample pictures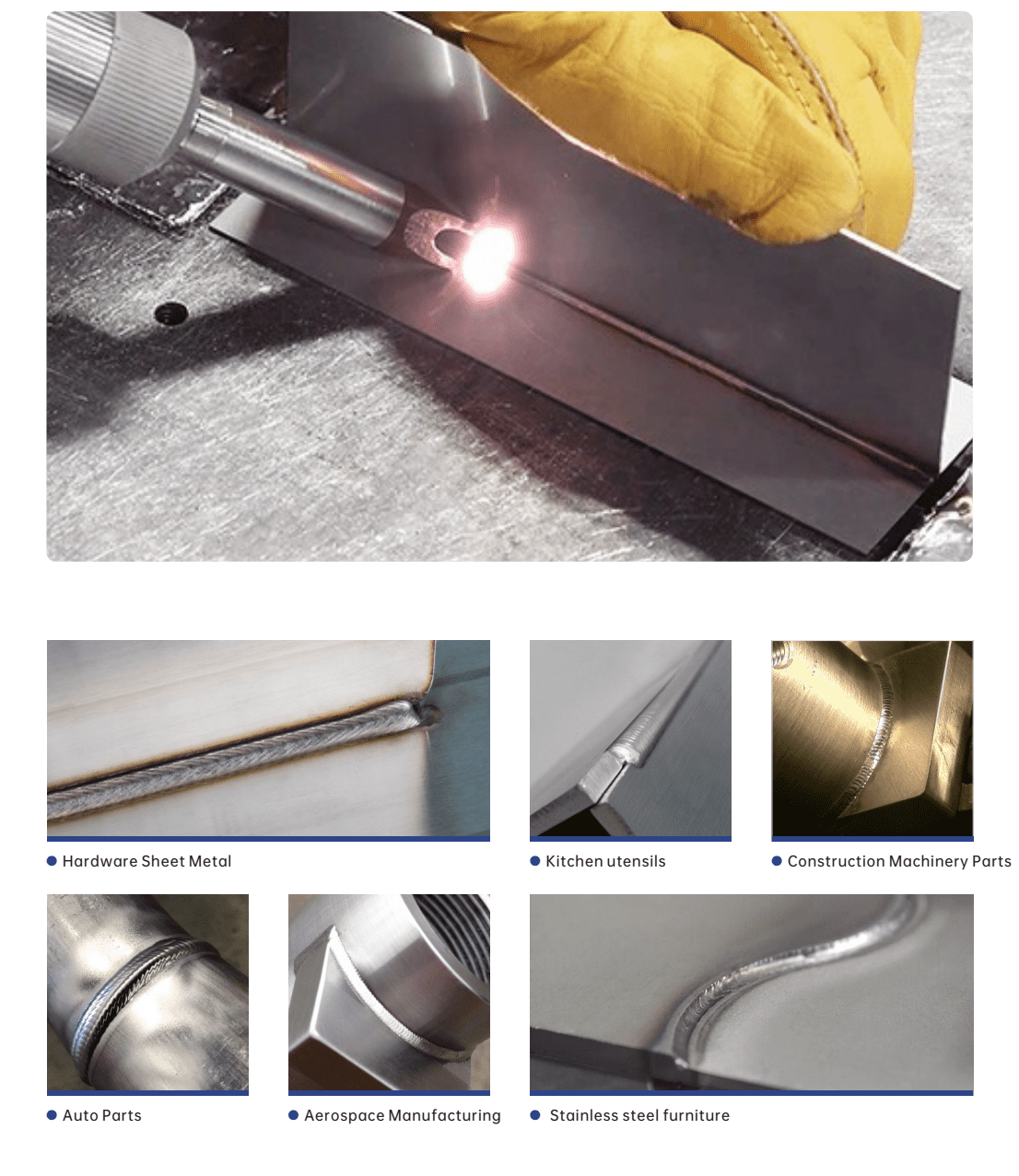 Laser Welding Gun
Laser welding head is widely used in staircases and elevators, shelves, ovens, stainless steel doors and windows guardrails, distribution boxes, stainless steel furniture and other industries complex irregular welding procedures; perfect replacement for traditional argon arc welding, stainless steel plate, iron plate, aluminum plate and other metal material aspects of welding.
Internal design dexterity, good interactive control system, expanding the tolerance range of the processed parts and the width of the weld seam, solving the disadvantage of a small spot, better welding seam formation.
Lightweight modeling, body engineering design method, comfortable grip; easy to control with one hand, easy to operate.
With multiple safety alarms, automatic light lock after moving the workpiece, high safety.
Beautiful weld seam, fast, no consumables, no weld marks, no discoloration, no post-polishing.
Can be configured with a variety of angle nozzles to meet the needs of different products welding.
Laser Welding Nozzles