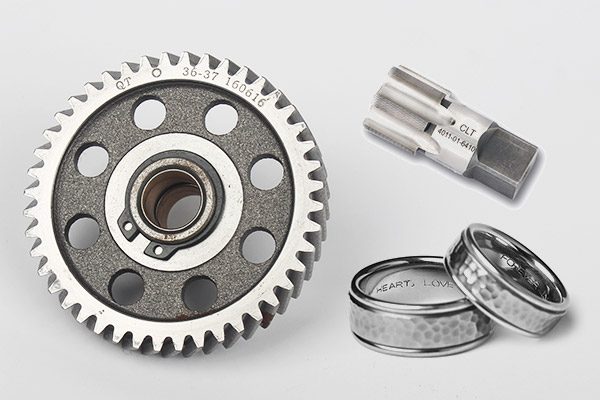 Do Need To Mark On Metals?
Laser Marks All Materials
Laser marking on metal is a contactless process that doesn't require any additional pre-marking or post-marking work.
Laser marking is most effective on metal, where it's easier to achieve diverse results. Laser marking, as well as laser engraving, is clean and precise.
Lasers markers for metal are the most efficient industrial engraving technology available.
Laser markers do not damage metal, and the resulting mark is resistant to acid and corrosive chemicals. Additionally, laser marking machines help optimize production time.
Fiber lasers are the best laser technology for marking metal. They are perfect for laser marking, micromachining, and cutting any type of metal or alloy. They are also great for engraving painted metal and surface-treated metal, such as anodized aluminum. Fiber lasers can be used in their standard version or the MOPA (variable pulse) version. MOPA lasers are versatile and produces high-quality results.
MOPA lasers have the same advantages as traditional fiber lasers, namely:
Zero maintenance、Durability、Air cooling
These laser engraving systems have additional advantages for laser marking on plastic and on metal.
MOPA lasers can produce colored markings on steel and black markings on anodized aluminum.Laser marking is less prone to corrosion due to limited heat transmission, and laser engraving edges have fewer burns.
MOPA lasers produce high-contrast laser marking on plastic. Impulse duration control means more uniform, burn-free laser marking.MOPA lasers meet the quality, production, esthetic, and safety standards required by the automotive, hydraulics, home appliance and medical industries.
However, traditional fiber lasers still produce very high-quality markings on natural aluminum or die-castings.
What Kind Of Metal Is Suitable For Laser Marking?
The small desktop model has the advantages of economical benefits, high cost performance, small and compact, easy to transport and carry.
An all-round marking equipment, Its strong adaptability, low maintenance, it is often used in the metal processing industries.
It is widely used in alumina blackening, stainless steel stable coloring, plastic marking, chip marking, fine etching and other fields.