INDUSTRIAL LASER SOLUTIONS FOR METALS
With our fiber laser machines, you can effortlessly engrave or mark a wide range of metals, such as stainless steel, aluminum, brass, tool steel, titanium, and others. This capability enables you to create various types of marks quickly and easily.
Whether you're engraving single product labels or marking numerous components at once, Mac Laser's laser marking system are the perfect solution for your metal and plastic marking needs. Our machines come with user-friendly setup processes, job handling functionalities, and accurate marking capabilities, ensuring that you achieve precise and satisfactory results every time.
APPLICATIONS FOR METALS MARKING
What Materials Does a Fiber Laser Engrave and Mark:
FEATURED APPLICATIONS FOR METALS INDUSTRY
FASTEST LASER MARKING SPEEDS
At Mac Laser, we provide the fastest laser markers available in the market. Our setup is specifically designed to mark metals and is customized for each unique application, taking into consideration various factors such as the type of metal, surface variations, positioning differences, and more. This ensures that our laser markers are optimized for maximum efficiency and accuracy when marking metals.
For most coating removal and paint stripping applications, laser cleaning is a viable option. The process of paint stripping using laser cleaning is extremely precise and does not damage the underlying substrate, leaving it completely intact after the paint removal process.
With Mac Laser's OEM solutions, it is possible to perform on-the-fly marking, which means that the parts can be marked while they are moving along the conveyor belt. This convenient feature allows you to seamlessly integrate laser marking into your production line without causing any delay or interruption to your ongoing operations.
BENEFITS OF OUR LASER TECHNOLOGY
The unique identifiers are designed to withstand even the most challenging environments, and are imbued with valuable information that can be traced back with ease. To accomplish this, our laser marking solutions can deliver the ideal marking solution, etching permanent marks onto all sorts of surfaces, including rough and curved surfaces, as well as surfaces that may have water or cutting oils present. These markings are designed to last, ensuring that the information they convey remains available for as long as it is needed.
RECOMMENDED LASER SOLUTIONS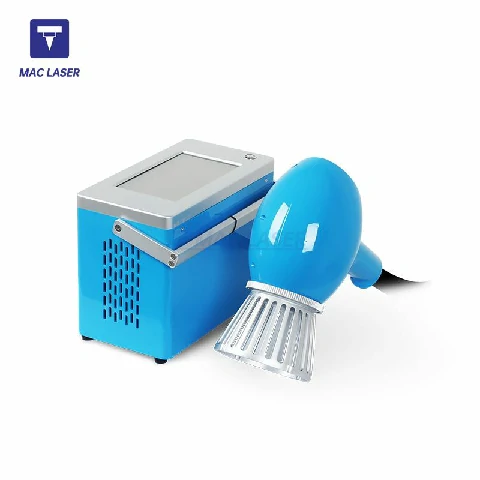 This is a portable, battery powered, fully automatic marking machine. Under normal use, it can keep working for 6-8 hours without cable dragging.
It has high peak power, high single pulse energy, and spot diameter optional features, Its performance in marking applications is more stable than traditional lasers.
A new generation of surface cleaning high-tech products, simple operation, no chemical reagents, high cleaning degree, high precision, high efficiency and environmental protection, safe and reliable.